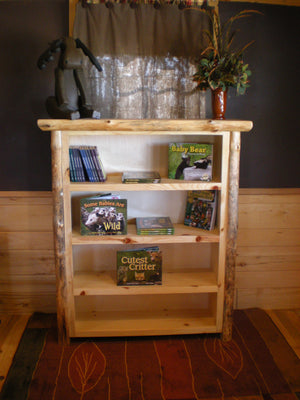 Log Bookcase
Sale price Price $674.00 Regular price
Description    | Aesthetically pleasing! Lots of room for books, or trinquetes!

Hand-Tooled Craftsmanship
Free Shipping 
Made in the U.S.A
High Quality Log Furniture
Want To Customize Your Furniture?
If you want additional customization for your log furniture, leave us a note at checkout in the special instructions section OR visit our Custom Design Requests Page for special order requests.
PLEASE NOTE: Additional customization may come at an extra cost to you. We will contact you after your purchase via e-mail and/or telephone to confirm custom requests that may increase the price of your item(s). 
For additional questions about this product visit our Contact Us Page.
Measurements
14"D x 53"H 
What's Pictured
*Measurements may vary by a few cm because each item is hand-tooled individually.