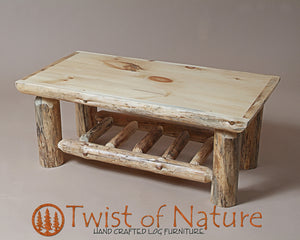 Standard Log Coffee Table
Sale price Price $599.00 Regular price
Description| Simple & stunning! Hand-crafted, log trim top-rustic & perfect for any family room!
Hand-Tooled Craftsmanship
Free Shipping 
Made in the U.S.A
High Quality Log Furniture
Want To Customize Your Furniture?
If you want additional customization for your log furniture, leave us a note at checkout in the special instructions section OR visit our Custom Design Requests Page for special order requests.
PLEASE NOTE: Additional customization may come at an extra cost to you. We will contact you after your purchase via e-mail and/or telephone to confirm custom requests that may increase the price of your item(s). 
For additional questions about this product visit our Contact Us Page.
Measurements
20x40x16"H
What's Pictured
Rustic Style Standard Log Coffee Table with finish
*Measurements may vary by a few cm because each item is hand-tooled individually.